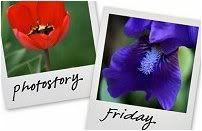 Hosted by Cecily and MamaGeek
Holy cow I cannot believe that the month is nearly over. It has been busy. I got a second part-time job. My first job is a secretary and I am not getting too much hours since the housing market is down. My second job is working at the kid's school with the daycare. K3 and K4 are only half days so the kids who can't go home can go to daycare. Then when the school is over I continue to the wraparound daycare for the whole school. So it's been keeping me busy. I already ready for a day off.
I haven't been taking too much pictures because a) I am too busy working so I haven't been seeing too much of my kids and b) my camera is about to GO. I have been having so much trouble with the zoom. I try to zoom out and it only goes a few and when I take a picture, it freezes up. It's been very frustrating. Hubby seems to think that there is sand or dirt in the lens area. I am waiting for him to take care of the problem for me but he has other things going on with HIS family.
King's mother has been having some severe health issue since Christmas and she might be coming home this weekend from the rehab center. She is finally getting back on her feet and taking care of herself. King has been taking care of all her health needs and updating his parent's house to make it accessible for her. We're all excited for her to come home.
Isn't life suppose to get easier?
Well at least I've got some things to keep me smiling.
Here is a picture of my Princess.
Until next time....